Upward Bound Math Science
Apply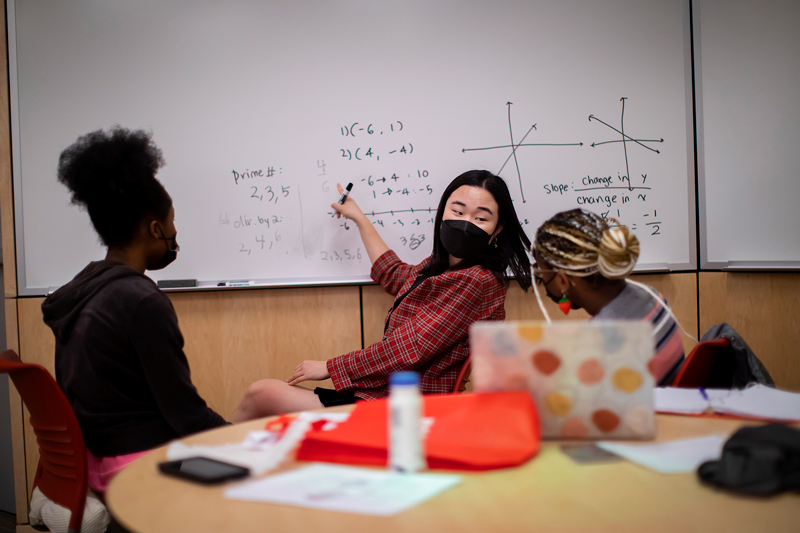 Build Your STEM Skills at UBMS!
The UBMS program strives to recruit talented Philadelphia high school students and recognize, develop, and celebrate their potential to excel in exciting math and science academic year and summer experiences. The program's goal is to encourage them to pursue postsecondary degrees in math and science, and ultimately careers in the math and science profession.
Submit the online application form & requested materials through the link below. If you have questions regarding the application procedures, contact Kelem Mengesha.
Apply >
Qualifications to join the program include:
Applicants must attend one of Upward Bound's participating high schools:
Overbrook High School | High School of the Future
In 9th or 10th grade when they apply
Low – income and/or first-generation-to-college
Have a GPA of 2.5 or greater
Have an expressed interest in studying science, technology, engineering or mathematics
Familial Income Requirement Information
In order to enter the Upward Bound Math Science Scholars Program at the University of Pennsylvania, students must be enrolled at one of our School District of Philadelphia partners (Overbrook High or High School of the Future). Not less than two-thirds (2/3) of the projects participants must be low-income and potential first-generation college students, with the remaining 1/3 being one or the other. In addition, all applicants must demonstrate a strong interest in science and/or mathematics. Income limitations are as follows: 
Size of Family Unit
1
2
3
4
5
6
7
8
Maximum Family Income
$19,140
$25,860
$32,580
$39,300
$46,020
$52,740
$59,460
$66,180
For family units with more than eight members, add the following amount for each additional family member: $6,720 for the 48 contiguous states, the District of Columbia and outlying jurisdictions; $8,400 for Alaska; and $7,725 for Hawaii.
What to Include With Your Application
1. Two (2) Letters of recommendation
One from a School Counselor 
One from a Math or Science Teacher
2. Proof of Income
3. Personal Statement